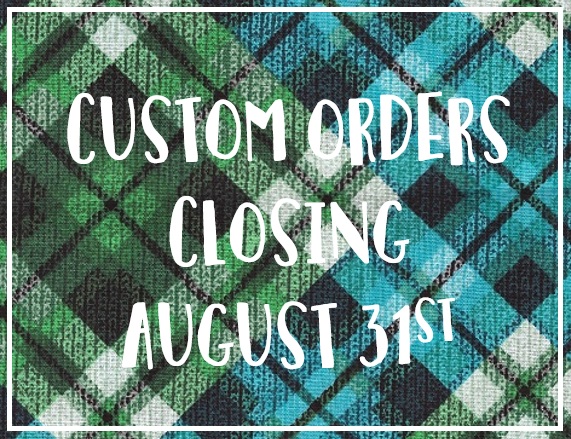 Custom orders will be closing temporarily to allow us to catch up on existing orders. The deadline to place an individual custom order is August 31st at 11:59 pm MST. We will re-open customs as soon as the sewing list is more manageable.
NOTE: We're rearranging menus and such, and updating the ribbon and cotton prints galleries. Not everything available will be listed while we're in the process of doing these updates. You can view them under the Facebook page by going to photos –> Albums –> See all and browsing through.
We offer a wide variety of Canadian made, hand crafted items including many styles of collars, leashes, etc. If you are on Facebook please read the Custom Order Checklist for information to include with your order request: Nearly Naked Neckwear
Wait times for orders will vary based on workload, and may range anywhere between 4-6 weeks. During busy times our replies to order requests may be a little slower.
-.-.-.-.-.-.-.-.-.-.-.-.-.-.-.-.-.-.-.-.-.-.-.-.-.-.-.-.-.-.-.-.-.-.-.-.-.-.-.-.-.-.-.-.-.-.-.-.-.-.-.-.-
Please contact us if you have any questions or would like to place an order.
Wholesale inquiries welcome as Nearly Naked is looking to expand.
PLEASE NOTE: As of January 1st, 2016 ALL custom orders must be paid for in full prior to being sewn.

All content & images copyright 2009-2019